JCROWS.COM
His Holiness the 17th Gyalwa Karmapa, Ogyen Trinley Dorje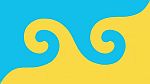 The Karmapa's official Namkhyen Gyaldar Dream Flag
Geomantic Dream Flag-Tashi Mannox
His Holiness Rangjung Rigpe Dorje,
the 16th Gyalwa Karmapa
Unusual Photo of H.H. the 16th Karmapa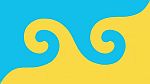 The Karmapa's official Namkhyen Gyaldar Dream Flag
Karmapa Performs the Black Crown Ceremony at Cathedral of the Pines, Rindge NH on Sept 14 1980
we were there and can be seen at 14:56, 15:20 and 16:25

Karma Triyana Dharmachakra ( Seat of the 17 Karmapa in America)
The 16th Gyalwa Karmapa, well known for his visions and prophesies, designed this flag from a vision that came to him in a dream. He called it Namkhyen Gyaldar (Victorious Flag of Buddha's Wisdom). He proclaimed, "Wherever this banner is flown the Dharma will flourish."
According to the outer meaning the blue represents the sky or heaven. The yellow symbolizes the earth. The wave symbolizes the Buddhadharma penetrating heaven and earth.
According to the inner meaning the blue represents vision and spiritual insight and the yellow symbolizes our experience of the everyday world. The symmetry of the wave pattern shows the interdependence of the absolute and relative levels of reality.
According to the secret meaning, the blue symbolizes emptiness-wisdom and the yellow represents compassionate action. The wave is Mahamudra: the union of compassion and wisdom- the ultimate realization of one's true nature.
xxxxxxxxxxxx
xxxxxxxxxxxxxxxxxxxxxxxxxxxxxxxxxxxxxxxxxx

His Holiness the 16th Karmapa His Holiness the 17th Karmapa
Legacy
The simple presence of Karmapa would create a profound and lasting blessing on all people coming into contact with him. He himself said that a Buddha should be known by his laugh and it was said that when Karmapa laughed, which he did all the time, one would hear him several houses away.
He also demonstrated a complete ability to communicate with animals, e.g., at a course in Europe, a large raven tapped on the window where Karmapa was teaching. When let in, the bird flew directly to Karmapa, after which he instructed two people to go to a barn a few miles down the road where two other birds were trapped and starving. Of course the birds were discovered and rescued. [11] Rangjung Rigpe Dorje had a special fondness for birds and he considered a visit to the local petshop in every city in the world an essential part of his travels.
Rangjung Rigpe Dorje was considered by many to be a living Buddha. Like his predecessors, he was primarily a spiritual figure and therefore not involved in politics. He, instead, made efforts to keep the spiritual traditions of Tibet intact and in this way helped to preserve the identity of Tibet as a unique and individual culture. Spiritually, he is an inspiration to hundreds of thousands of people across the world who meditate on him daily.






Shin bone relic attributed to the late 16th Gyalwa Karmapa, given to Drupon Dechen Rinpoche of Tsurphu Monastery in Tibet by Shamar Rinpoche. A Form of the Buddha Miraculously Appeared on the Bone.
Early picture of Kaygu Lamas with the 16th Karmapa
Arthritis and Folk Medicine


(not oil dipped sticks; handmade - all herbs)
Unscented Incense Sticks & Cones
Tibetan Medicine Books & Audio Course
Certified Organic Buckwheat Hulls, Millet Hulls and Pillow Kits.
Makes a Comfortable Meditation Cushion or Mat
Handbook of Traditional Tibetan Drugs: Their Nomenclature,Composition, Use and Dosage
The Dynamics of Disease-How the Ayurveds and Homeopaths perceive disease.
Dr. Duke's Phytochemical and Ethnobotanical Databases


Chagpori Medical College for the study of Tibetan Medicine and Astrology