JCROWS.COM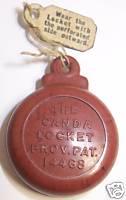 Charms and amulets
The origin of necklaces as a form of treatment is credited to a Greek physician by the name of Oribasius. He was a friend of the Emperor Julian and, like Galen, was a native of Pergamos. Oribasius compiled some 72 books bringing together the medical knowledge of the time. In one of them he recommended the use of a necklace of beads made of peony wood. This was to be worn by those subject to epilepsy, although he did not recommend reliance on this method alone.
The idea of wearing necklaces to prevent disease is at least as old. The Romans hung red coral round the necks of their infants to protect them from the evil eye. In his memoirs, entitled 'Pack up your medicines', Victor Hammond recalled that as a student in 1939 he received a selection of raw materials from British Drug Houses:
Some had a foul odour, like asafoetida, which had been used in former times in "tiddy bags", hung around the necks of unfortunate children in the belief that the sickening smell would keep diseases at bay.
Museum of the Royal Pharmaceutical Society
Iodine lockets, 1939

Iodine lockets in Butler and Crispe's catalogue, 1939
Medicated necklaces continued as a popular dosage form throughout the centuries, and indeed well into the second half of the 20th century. Many community pharmacists recall Simpson's Iodine Lockets, which were available in a variety of different presentations. For example, Basil Trasler, who undertook his apprenticeship in Northampton in the late 1940s, said:
I remember iodine lockets, which I'm pretty certain were Simpson's Iodine Lockets. I was still at elementary school, and I remember that, along with thousands of others, my mother was taken in by them, and I had to wear an iodine locket. So that would be about 1932. Then subsequently I remember a large locket being brought out that was designed to hang over the entrance door to a room, and thus presumably kill all the bugs in the room. And I also recall that Simpson's used to regularly have a full page advertisement in the Daily Mail for Simpson's Iodine preparations, which was expensive even in those days. I assumed that the Simpson iodine preparations had disappeared before the war, probably in the 1930s, but apparently they continued well into the 1950s.
Iodine lockets were used by millions of people around the country. In a personal communication, retired pharmacist Bill Jackson also recalls wearing the lockets as a child. He told me: "I wore a Simpson's Iodine Locket when I was a child in the 1930s. It consisted of a disc-shaped bakelite container that was suspended round my neck by means of a ribbon. It had a pleasant antiseptic smell. Over a period of time it gradually lost its smell. I think its purpose was to protect the wearer from attack by germs, particularly from the common cold". The last reference to Simpson's Iodolock Iodine Lockets appears in the Sanger's catalogue of 1941–42. Other brand's included Canda's Lockets, illustrated in Ayrton Saunder's catalogue of 1936.
Something special
Until well into the 20th century Latin was the universal language of medicine. In pharmacies across the country abbreviated Latin names appeared on the shop rounds and other containers. Latin was used for writing prescriptions; it acted as a secret code for passing messages between the doctor and the pharmacist, with the patient acting as messenger. Both the doctor and the pharmacist could safely assume an ignorance of Latin on the part of all but a handful of the public. This assumption was often made use of by the doctor, even for private patients. John Savage recalled an incident in York in the 1940s:
On one occasion one of the account customers had gone down to Harley Street in London, and he came in proudly with this private prescription on Harley Street headed notepaper. It had beautiful long hand directions in Latin. It was for butazolidine which had just become available on prescription; it was the latest wonder drug. We were completely baffled by this great long Latin direction, but we eventually deciphered it as "take three days to obtain". In other words, the doctor wanted to give the patient the impression that it was something unique, being obtained specially for him. For him just to walk in and have it straight off the shelf (we had it readily available and the National Health Service patients were getting it!) would have been quite unacceptable.
By prescribing the latest drug the Harley Street doctor was doubtless keen to demonstrate to his patient that he was at the cutting edge of medicine. And the patient would have firmly believed that the latest drug must be much more effective than anything that had gone before.
Pharmacists were not allowed to discuss the medicine with the patient and, if the patient asked what the medicine was for or what it was called, they were politely referred back to the doctor. I suspect few of them actually bothered, which was of course the intended outcome.
Latin names helped to endow even the most ineffective of preparations with powerful therapeutic properties. The placebo effect has of course been well known for many years, and most doctors did not hesitate to prescribe preparations that had little more than a soothing or psychological effect. Often the writing of a prescription was a mechanism for terminating the consultation and some doctors did so with a sense of desperation. Many pharmacists reported receiving prescriptions for a product with the mysterious initials ADT. In his book of recollections entitled 'Sixty-two years a Fratton pharmacist', Richard Tremlett recalled as an apprentice working in the basement dispensary of a busy pharmacy in Hampshire:
Down came a prescription one day which called for 12 ounces of ADT. I had no idea what that meant. When I asked [the pharmacist] he told me gleefully that ADT stood for "Any Damn Thing".
http://www.pharmj.com/editorial/20061223/christmas/p777castingspells.html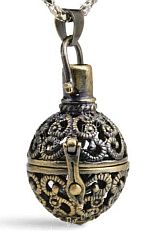 Iodine locket recently available from Singapore with the following description, "Beautiful brass locket containing iodine crystals ...feel vibrant and energetic within hours." link: (may have expired) http://www.olx.com.sg/iodine-locket-iid-197585213
Quote from Facebook:
"I remember iodine lockets, which I'm pretty certain were Simpson's Iodine Lockets. I was still at elementary school, and I remember that, along with thousands of others, my mother was taken in by them, and I had to wear an iodine locket. So that would be about 1932.
About Buddhist Talisman and Amulets
Arthritis and Folk Medicine


(not oil dipped sticks; handmade - all herbs)
Unscented Incense Sticks & Cones
Tibetan Medicine Books & Audio Course
Certified Organic Buckwheat Hulls, Millet Hulls and Pillow Kits.
Makes a Comfortable Meditation Cushion or Mat
Handbook of Traditional Tibetan Drugs: Their Nomenclature,Composition, Use and Dosage
The Dynamics of Disease-How the Ayurveds and Homeopaths perceive disease.
Dr. Duke's Phytochemical and Ethnobotanical Databases



Chagpori Medical College for the study of Tibetan Medicine and Astrology

With Dr. Paul, Peterborough NH Dec 13 2011
A very sweet person with tons of young children and families in the audience.
Dr. Paul delivered over 4000 babies_he said he went into gynecology medicine so he could deliver babies because
he thought it would be a happy type of career.
Disclaimer
Any statements made on this site have not been evaluated by the FDA and are not intended to diagnose, treat or cure any disease or condition.This site contains curious, accumulated medical wisdom from times gone by. No claims are made with respect to efficacy for any purpose whatsoever. All items are offered and sold as Talisman only. Talisman are objects which confer power of various kinds upon those who wear them or own them. Always consult your professional health care provider.