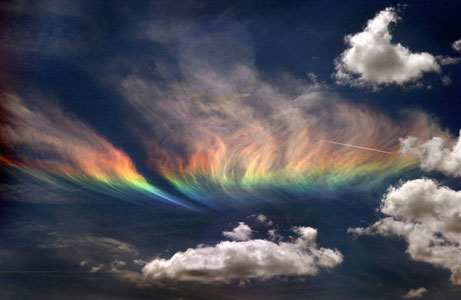 June 19, 2006—It looks like a rainbow that's been set on fire, but this phenomenon is as cold as ice.
Known in the weather world as a circumhorizontal arc, this rare sight was caught on film on June 3 as it hung over northern Idaho near the Washington State border (map of Idaho).
The arc isn't a rainbow in the traditional sense—it is caused by light passing through wispy, high-altitude cirrus clouds. The sight occurs only when the sun is very high in the sky (more than 58° above the horizon). What's more, the hexagonal ice crystals that make up cirrus clouds must be shaped like thick plates with their faces parallel to the ground.
When light enters through a vertical side face of such an ice crystal and leaves from the bottom face, it refracts, or bends, in the same way that light passes through a prism. If a cirrus's crystals are aligned just right, the whole cloud lights up in a spectrum of colors.
This particular arc spanned several hundred square miles of sky and lasted for about an hour, according to the London Daily Mail.
—Victoria Gilman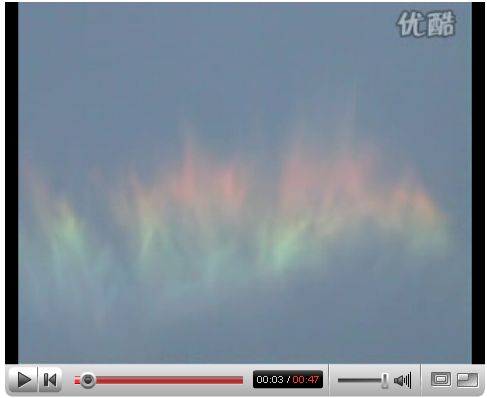 10 mins before the 2008 Sichuan earthquake in China




30 mins before the 2008 Sichuan earthquake in China


(not oil dipped sticks; handmade - all herbs)
Unscented Incense Sticks & Cones
Tibetan Medicine Books & Audio Course
Organic Buckwheat Hulls and Millet Hulls
Makes a Comfortable Meditation Cushion or Mat
Handbook of Traditional Tibetan Drugs: Their Nomenclature,Composition, Use and Dosage
The Dynamics of Disease-How the Ayurveds and Homeopaths perceive disease.
Dr. Duke's Phytochemical and Ethnobotanical Databases


Chagpori Medical College for the study of Tibetan Medicine and Astrology
Advertising Rates